Rohingyas are being ethnically cleansed, says Juncker
Σχόλια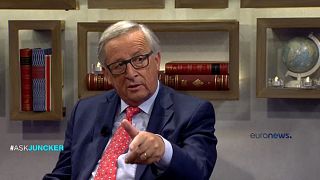 Jean Claude Juncker; said the EU is not powerless to bring members of the Visgrad Four into line over migrant quotas.
Hungary and Slovakia, members of Central European group, lost a migrant relocation court case against Brussels.
Speaking to Euronews, he said the commission can and will act.
"Once the European Court of Justice has ruled, member states who have lost their case must abide by the rules, and if they don't the Commission can launch infringement proceedings."
The Commission chief pulled no punches and was scathing when asked about the plight of the Rohingya people.
"What is happening in Myanmar is a catastrophe, shocking. It is true to say the that this is a case of ethnic cleansing."
The EC chief defended the Schengen area. Juncker said terrorist attacks do not increase because of the open borders.
"The problem is not with border controls, what we need is better information between security services so that we are better prepared to deal with terrorists. In my speech before parliament I proposed setting up a security agency."